When craftsmanship becomes art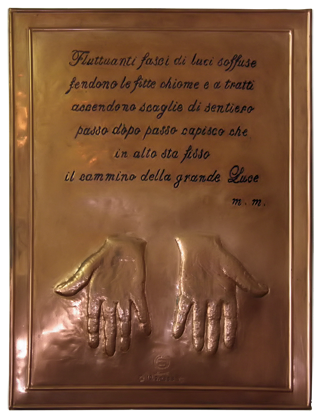 Whatever the boundary between craft and artistic production is, what remains is the astonishment of observing not only the final product but also the working phases.
The boundary, unlike the common meaning of the term, is not a dividing limit, it is rather a coalescence of two activities.
In our case, of two creative activities.
Therefore, to identify the demarcation line between craftsmanship and artistic production isn't that simple.
I often observe Cesare's big and hard hands beating, as he says, a thick, red-hot foil of copper.
The foil, at first just bends then, gradually, blow after blow, it begins to take shape.
A difficult form to interpret for an untrained eye, but a well defined shape in the craftsman's mind.
The blows follow one another, repeatedly.
The sound – for it is sound – is dull at first, then, it becomes sharper and sharper, and before I even realise it, he knows he has to replace the foil on the fire and start again.
About an hour later, finally, what he has created is revealed to me. It's a pot!  And I     keep wondering if this is or is not art.
Why do I ponder this? Because those big, rough, hard hands are able to chisel with great mastery pieces of extraordinary beauty.
Is it a bit naïve? Possibly.
But when you see these objects you realise why Cesare Mazzetti is know all over the world as "golden hands".
Luciano Cevoli