The cuisine of the copper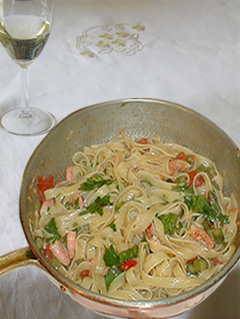 There's little to be added in regard to the regional Italian cuisine. Tuscany, for example, is world famous for the sophistication and –at the same time – simplicity of both its typical meat and fish dishes.
In Motepulciano you can savour traditional local dishes (very frequently used by farmers).
Amongst the typical dishes; the one which stands out most for the simplicity of its ingredients and the sensitivity required of the cook in its preparation, is the "Pici alle Briciole".
"Pici" is the typical pasta of Montepulciano.
Ingredients for the preparation of Pici: flour, water, lots of cooking experience and lots of passion for cuisine.
For the preparation of the sauce: Tuscan oil and stale bread.
Evaluating the ingredients, it seems to be a dish of poverty. It is!
Only by savouring it can you discover the richness and the antique origins of its history. You need to try it.
It matches perfectly the "Rosso di Montepulciano" wine.
To try your hand at preparing this delicious dish, you can find the instructions in the section "the copper recipes".
With the same dough (plus eggs) you can make maccheroni or tagliatini.
With stale bread you can prepare "Panzanella": a salad seasoned with abundant olive oil and enriched with the flavours of onion and basil, or "Ribollita" made of slices of stale bread watered with bean broth.
You can make "Rivoltolo" using kneaded wheat flour deep fried in oil. Until recently, with corn flour people used to make a kind of flat bread (called "schiacciata") that was cooked between two cabbage leaves.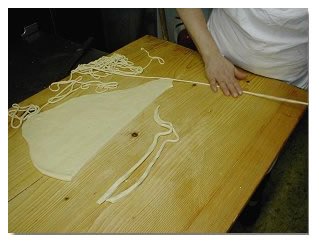 While the "Ravaggiolo" was cooked wrapped into fern leaves: it is a kind of tender cheese typical of this area.
You can make bruschetta by toasting some bread on a flame, rubbing it with garlic clove and pouring some fresh season olive oil on it.
Spit roast chicken, duck (called "nana" in the regional dialect) and goose ("ocio"), suckling pig cooked with salt, garlic and rosmary, roasted capon, guinea fowl, rabbit; those are the meat dishes which made their way from the countryside to the city restaurants.
Other typical dishes are: croutons with spleen or chicken liver, main courses made of game and mushrooms, "pansanto" – a slice of bread topped with boiled cauliflower, vinegar, olive oil – the much celebrated chianina steak, all of which are accompanied by flat bread seasoned with olive oil – "Ciaccia" – or by the typical Tuscan bread which is salt free not to interfere with the other flavours.
Another important element in the regional gastronomy are the sweets: "cantuccini" – almond biscuits traditionally dipped into a locally produced wine the "Vinsanto" – "lattaiolo" similar to crème caramel, chestnut cake "castagnaccio", "Ciaccia dei morti" – a seasonal sweet prepared on occasion of the November holidays – and "Crogetti" –  typical Carnival sweets.