Copper in a room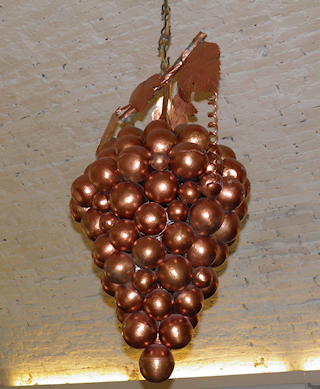 Right next to my studio, in a premise previously used as storage, I set up an exposition of the works I cherish most.
Many of them were crafted by my grandfather and my father.
Others are from their and my masters, and some others I recovered from very skilled old artisans.
These few rooms are meant to be a tribute to the ancient art they have handed down to me.
I created it with deep and selfless love.
I also display there some of my works. In some cases I could only display pictures, as the actual works belong to my clients.
It's the case of the plate I created for His Holiness Pope Benedict XVI, who had the kindness to be pleased of it and to dwell on discussing with my about my work for a few minutes.
What an unforgettable moment!
Me, a simple artisan having the privilege to discuss with His Holiness the Pope.
A few minutes, clearly, but so intense they seemed to me they lasted forever.
Some people who were so kind to visit my exhibit commented that in those works they managed to find a good deal of a not very well known part of the Italian history.
A story that begins with houses and daily life.
In our modern age you cannot help but being fascinated by the thought that only a few decades ago, there were no running hot water and that it was obtained by putting the "mezzine" (copper vases) full of water next to the fireplace, or that wine was decanted and kept chill and pure in specific copper carafes...
A blast from the past? Well, why not?
But, if you reflect upon it, many of the functions once carried out by these exhibited objects are still present now, in our everyday life.
The objects have been re-edited, produced with different material resulting in less expensive items that not always provide the same performance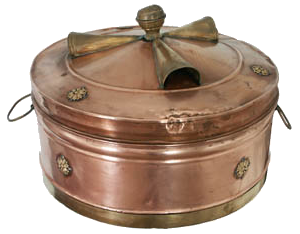 of the original.
A dearest friend of mine who is Neapolitan, for example, is very proud to possess an original, ancient copper "pizza stove".
A product that could have been designed and created only in Naples.
He described it many times, until when one day, he asked me to fix it, leaving untouched the signs of time.
Then he challenged me to evaluate its performance.
To do so he took hold of my kitchen and prepared the so called 'Homemade Neapolitan style Pizzelle'.
Small deep fried pizza that is a specialty of Naples cuisine.
A few of them which "survived" our voracity were left into the stove.
After more than one hour the "pizzelle" were still hot, fragrant and tasty as they were freshly made.
What would have they become if we had kept them wrapped into those cartons that are so common nowadays?
Here is one of the many qualities of copper.
Even though copper has a history of thousands of years, it remains the best metal to use for cooking purposes (and not only).