Cooking with Copper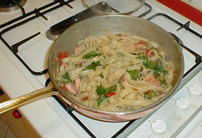 Copper has an extremely high & uniformed heat index, thus allowing the best way to cook food.
Its homogeneous heat distribution results in non-aggressive cooking which preserves foods nutritional values & organoleptic characteristics.
To get the best results it's not enough to just have a simple copper pot. It must have an adequate thickness.
Cooking quality food depends on the thermic margin resulting from the foil thickness.
Many copper pots on the market are very light & don't give the results that our pots ensure.
Another key element to the pots efficiency is its shape. All over the world, Italy is celebrated for its beautiful ethnic cuisine.
Pots are also famed & have evolved within each region to sit with each specific cuisine.
In recent years modern, cheaper aluminium has replaced traditional copper. Stainless steel pots were born 30 – 40 years ago.
The main aim of modernising pots was to try to achieve the best dietry results. However it resulted in achieving exactly the opposite by promoting aggressive cooking.

For example: stainless steel has a low heat transmission which means that when food is in contact with the bottom of the pot it is exposed to a much higher heat than the rest of the food.
Where the flame meets the pot it creates hot spots.
This results in food sticking & burning. By stirring you can ensure everything is cooked thoroughly, however results will never be uniform.
*Thermal conductivity:
| | | | |
| --- | --- | --- | --- |
| Silver | Copper | Aluminium | Steel |
| 429 W/m°C | 392 W/m°C | 225 W/m°C | 16 W/m°C |
Copper heat wraps & caresses food.
Cooking is faster without compromising aromas & flavors. Recent research has verified that the 500 years of cooking with copper, is indeed the most effective material. This is why most chefs only use copper pots. Further to this, cooking with copper is also easier than using other types. You only need to follow two rules: Firstly use wooden tools to avoid damaging the pot & secondly use a very low flame. (as already noted, this is because copper has an extremely high heat transmission power)
As food doesn't stick to them, copper pots can be cleaned very easily. In addition to that, they can even be put directly on the table as a beautiful alternative to a standard serving dish!
Initial use:
It is suggested that for first use of a brand new copper pot, some vegetables should be boiled for a little while.
Cleaning:
The internal surface should be cleaned with non abrasive products. Using a normal washing up liquid is adequate. It should be noted that staining on the tin could possibly occur as a result of the acidity of some food.
This does not impair the performance & safety of the product.
With prolonged use you can expect the pot exterior to darken. To keep it shining you can opt to clean it from time to time with either:
lemon or vinegar & salt
lemon & corn meal
or a normal copper polish.